Brandt, Willy, born Herbert Ernst Karl Frahm, 18-12-1913 in Lübeck,
to Martha Frahm, an unwed mother who worked as a cashier for a department store. His father was an accountant from Hamburg named John Möller, whom Brandt never met. As his mother worked six days a week, he was mainly brought up by his mother's stepfather Ludwig Frahm
 and his second wife Dora. Frahm died age 79 on 01-06-1936. After passing his Abitur in 1932 at Johanneum zu Lübeck, he became an apprentice at the shipbroker and ship's agent F.H. Bertling. He joined the "Socialist Youth" in 1929 and the Social Democratic Party (SPD)
in 1930. He left the SPD to join the more left wing Socialist Workers Party (SAP), which was allied to the POUM in Spain and the Independent Labour Party in Britain. In 1933, using his connections with the port and its ships, he left Germany for Norway to escape Nazi persecution. It was at this time that he adopted the pseudonym Willy Brandt to avoid detection by Nazi agents. In 1934, he took part in the founding of the International Bureau of Revolutionary Youth Organizations,
and was elected to its Secretariat. Brandt was in Germany from September to December 1936, disguished as a Norwegian student named Gunnar Gaasland. He was married to Gertrud Meyer from Lübeck in a fictitious marriage to protect her from deportation. Meyer had joined Brandt in Norway in July 1933. In 1937, during the Civil War, Brandt worked in Spain as a journalist.
 In 1938, the German government revoked his citizenship, so he applied for  Norwegian citizenship. In 1940, he was arrested in Norway by occupying German forces, but was not identified as he wore a Norwegian uniform. On his release, he escaped to neutral Sweden. In August 1940, he became a Norwegian citizen, receiving his passport from the Norwegian embassy in Stockholm, where he lived until the end of the war. Willy Brandt lectured in Sweden on 01-12-1940 at Bommersvik college about problems experienced by the social democrats in Nazi Germany and the occupied countries at the start of World War II. In exile in Norway and Sweden Brandt learned Norwegian and Swedish. Brandt spoke Norwegian fluently, and retained a close relationship with Norway. In late 1946, Brandt returned to Berlin, working for the Norwegian. In late 1946, Brandt returned to Berlin, working for the Norwegian government. In 1948, he joined the Social Democratic Party of Germany (SPD) and became a German citizen again, formally adopting the pseudonym, Willy Brandt, as his legal name. From 03-10-1957, to 1966, Willy Brandt was Mayor of West Berlin. At the start of 1961, U.S. President
John Fitzgerald Kennedy
saw Brandt as the wave of the future in West Germany and was hoping he would replace
Konrad Adenauer
as chancellor following elections later in the year. Kennedy made this preference clear by inviting Brandt, the West German opposition leader, to an official meeting at the White House a month before meeting with Adenauer, the country's leader. Brandt's predecessor as Chancellor,
Kurt Georg Kiesinger
, had been a member of the Nazi party, and was a more old-fashioned conservative-liberal intellectual. Brandt, having fought the Nazis and having faced down communist Eastern Germany during several crises while he was the Mayor of Berlin, became a controversial, but credible, figure in several different factions. As the Minister of Foreign Affairs in Kiesinger's grand coalition cabinet, Brandt helped to gain further international approval for Western Germany, and he laid the foundation stones for his future Neue Ostpolitik. Willy Brandt, decided to make an even more spectacular move. He honoured Poles of Jewish descent who perished by German hands during WW2. The incident took place during a visit to a monument to the Nazi-era Warsaw Ghetto Uprising on December 7, 1970, in what was then the communist People's Republic of Poland. After laying down a wreath, Brandt, very surprisingly, and to all appearances spontaneously, knelt.
 He remained silently in that position for a short time, surrounded by a large group of dignitaries and press photographers
.
 There was a wide public-opinion gap between Kiesinger and Brandt in the West German polls.
From 1941 until 1948, Brandt was married to Anna Carlotta Thorkildsen
(the daughter of a Norwegian father and a German-American mother). They had a daughter, Ninja Brandt
(born in 1940). After Brandt and Thorkildsen were divorced in 1948, Brandt married the Norwegian-born German writer Rut Hansen in the same year. Hansen and Brandt had three sons: Peter Brandt [de] (born in 1948), Lars Brandt [de] (born in 1951) and Matthias Brandt (born in 1961). After 32 years of marriage, Willy Brandt and Rut Hansen Brand divorced in 1980, and from the day that they were divorced they never saw each other again. On 09-12-1983, Brandt married Brigitte Seebacher [de]
(born in 1946).
Death and burial ground of Brandt, Willy.
Willy Brandt died of colon cancer at his home in Unkel, a town on the Rhine River, on 08-10-1992, and was given a state funeral. He was buried at the cemetery at the Waldfriedhof Zehlendorf in Berlin and his neighbour is
Hildegard Knef.
His second wife Rut who died, age 86 on 28-07-2006, is buried a little further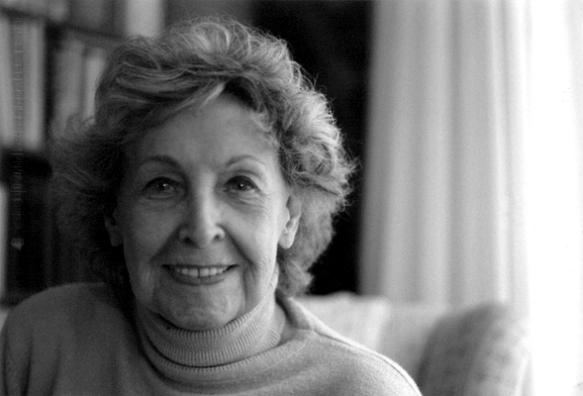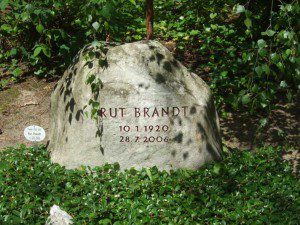 The Generalmajor der Wehrmacht, Inspector of Motor Vehices, 
Friedrich Starke
, Generalleutnant der Artillerie, Commander 265
th 
Infantry Division,
Hans Junck
 and Generaloberst der Flieger, commander Luftflote 1, Air Fleet I.,
Alfred "Iron Keller" Keller
are buried close by.