Brack, Victor Hermann, born 09-11-1904 in Haaren
, the son of a physician in Haaren (now part of Aachen) in the Rhine Province. In 1928, he completed a degree in agriculture at the Technical University of Munich and shortly thereafter began managing the estate attached to his father's sanatorium; he also was a test driver for BMW.
In 1929 at the age of 25, Brack became a member of the Nazi Party (NSDAP)
and the Schutzstaffel (SS).  Throughout 1930 and 1931, Brack was one o f Heinrich Himmler personal drivers, having become acquainted with the Reichsführer-SS as a consequence of his father having delivered one of the SS leader's children. Sometime in 1932, he became adjutant to
Philipp Bouhler
  band by 1934, Brack was his chief of staff. In 1936, he was appointed chief of Hauptamt II (main office II) in the Chancellery of the Führer in Berlin. The office handled matters concerning the Reich Ministries, Wehrmacht, NSDAP, clemency petitions and complaints received by the Führer from all parts of Germany.
Brack became a Nazi war criminal, the organizer of the Euthanasia Programme, Action T4
, where the Nazi state systematically murdered disabled German people.
Aktion T4
 was a postwar name for mass murder through involuntary euthanasia in Nazi Germany. The name T4 is an abbreviation of Tiergartenstraße 4, a street address
of the Chancellery department set up in the spring of 1940, in the Berlin borough of Tiergarten, which recruited and paid personnel associated with T4. Certain German physicians were authorised to select patients "deemed incurably sick, after most critical medical examination" and then administer to them a "mercy death" (Gnadentod). In October 1939, Adolf Hitler signed a "euthanasia note", backdated to 01-09-1939, which authorised his physician
Karl Brandt
 and Reichsleiter
Philipp Bouhler
to implement the programme.The killings took place from September 1939 until the end of the war in 1945; from 275,000 to 300,000 people were killed in psychiatric hospitals in Germany and Austria, occupied Poland and the Protectorate of Bohemia and Moravia.
Following this, Brack was one of the men responsible for the gassing of Jews in the extermination camps, and he conferred with SS Obergruppenführer,
Odilo Globocnik
about the practical implementation of the Final Solution. In 1929, Viktor Brack became a member of the NSDAP
 and the SS
. In 1936, he was Chief of Office 2 (Amt II) in the Chancellery of the Führer in Berlin. The office handled matters concerning the Reich Ministries, armed forces, Nazi Party, clemency petitions and complaints received by the Führer from all parts of Germany. In November 1940, Brack was promoted to the grade of SS-Oberführer
. In December 1939, Brack gave SS Obersturmbannführer August Becker, a mid-ranking functionary in the SS, 
the task of arranging gas killing operations with perpetrated buses,of mental patients and other people that the Nazis deemed "life unworthy of life."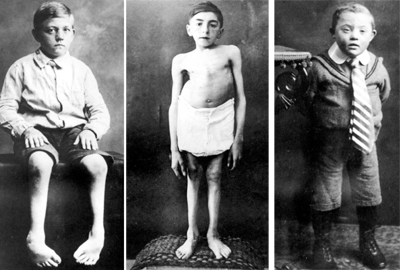 SS Obersturmbannführer Becker helped design the vans with a gas chamber built into the back compartment. Because of his membership in the SS, Becker was sentenced after end of war to a three years prison sentence. Afterwards he worked as a salesman and industrial worker. In 1959, he suffered a stroke and moved to a nursing home in the upper Hessian town of Laubach.In 1959, the public prosecutor's office in Stuttgart began a preliminary investigation into offenses committed by Becker, SS Sturmbannführer Albert Widmann
and Paul Werner, the T4 chemists. Becker was condemned to ten years prison, but on 15-07-1960, due to his bad state of health he was released from detention and admitted to the home for the elderly at Butzbach. When in 1967, the State Criminal Court in Stuttgart sent a summons to Becker, it turned out that Becker had been taken out of the Butzbach home on 03-1-1966, by persons unknown, and his current whereabouts could not be determined. On 16-06-1967, the Baden-Wurttemberg State criminal police agency issued a bulletin to be on the look out for Becker. By then, however, Becker had been checked into another nursing home where he remained in a state of almost complete mental and physical breakdown. August Becker died on 31-12-1967, age 67.
Albert Widman ultimately served six years and six months in prison and lived a long life and died 24-12-1986, aged 74, in Stuttgart,.
This operation later became known as Action T4. During the Doctors' Trial Brack testified from the witness stand that after 1941, when the extermination of Jewish population by Nazis was at full capacity,
Heinrich Himmler
 ordered him and Hitler's physician SS Gruppenführer, Hitler's personal physician,  
Dr. Karl Brandt
to contact physicians involved previously in the Euthanasia Program to find out a way of sterilizing young and strong Jews capable of labor for use in the German war effort. Brandt was hanged in Landsberg 02-06-1948. The idea was to develop a method by which the victim could be sterilized without being aware of the process. In March 1941, Brack fulfilled his assignment and prepared a report for Heinrich Himmler, in which he described the method of sterilizing patients using X-rays on a large scale and without the subject's knowledge of the fact until the effects made themselves felt. On 23-06-1942 Brack wrote the following letter to Himmler: Dear Reichsführer, among tens of millions of Jews in Europe, there are, I figure, at least two to three millions of men and women who are fit enough to work. Considering the extraordinary difficulties the labour problem presents us with, I hold the view that those two to three millions should be specially selected and preserved. This can, however, only be done if at the same time they are rendered incapable to propagate. About a year ago I reported to you that agents of mine had completed the experiments necessary for this purpose. I would like to recall these facts once more. Sterilization, as normally performed on persons with hereditary diseases, is here out of the question, because it takes too long and is too expensive. Castration by X-ray however is not only relatively cheap, but can also be performed on many thousands in the shortest time. I think that at this time it is already irrelevant whether the people in question become aware of having been castrated after some weeks or months, once they feel the effects. Should you, Reichsführer, decide to choose this way in the interest of the preservation of labor, then Reichsleiter,
Philipp Bouhler
 would be prepared to place all physicians and other personnel needed for this work at your disposal. Bouhler committed suicide age 45, on 19-05-1945. The mass murders took place in the euthanasia centre Hadamar, Bernberg, Grafeneck, Sonnestein and Hartheim.
Likewise he requested me to inform you that then I would have to order the apparatus so urgently needed with the greatest speed. Heil Hitler! Yours, Viktor Brack. Following the letter, Himmler ordered the procedure to be tested on prisoners in Auschwitz. Since Brack
 was transferred to an SS division, his deputy Werner Blankenburg  
 would undertake the task and "immediately take the necessary measures and get in touch with the chiefs of the main offices of the concentration camps. Werner Blankenburg, alias Bieleke, died on 28-11-1957 in Stuttgart. His funeral at the Michaelskirche in Stuttgart-Wangen was attended by several old comrades from T4 who were secretly filmed by the Kriminalpolizei.
In spite of his last wish that he should be buried under his real name, Blankenburg lies in grave No. 2058, rows 5-6, under the name of Werner Bieleke.
Viktor Brack testifies in his own defense at the Doctors' Trial in Nuremberg in 1947. From testimony given by a French physician of Jewish descent, who was a prisoner in Auschwitz from September 1943 to January 1945, it can be found that sterilization of Jewish inmates was carried out in Birkenau camp by SS doctors. SS Hauptsturmführer,
Josef Mengele
 "The Angle of Death" infamous for performing human experiments on camp inmates in Auschwitz, including children, for which Mengele was called the "Angel of Death". About 100 male Poles who had been sterilized at Birkenau were attended to by the witness after the operation. According to the witness, members of the group were later castrated by camp physicians. The first condemned prisoners arrived at Landsberg prison in December 1945. These war criminals had been sentenced to death for crimes against humanity at the Dachau Trials which had begun a month earlier. Between 1945 and 1946, the prison housed a total of 110 prisoners convicted at the Nuremberg trials, a further 1416 war criminals from the Dachau trials and 18 prisoners convicted in the Shanghai trials. 
(These were military tribunals conducted by the American forces in Japan between August 1946 and January 1947 to prosecute 23 German officials who had continued to assist the Japanese military in Shanghai after the surrender of Nazi Germany. In five and half years, Landsberg prison 
was the place of execution of nearly 300 condemned war criminals. 259 death sentences were conducted by hanging and 29 by firing squad. Executions were carried out expeditiously. In May 1946 twenty eight former SS guards from Dachau were hanged within a four-day period. Bodies that were not claimed were buried in unmarked graves in the cemetery next to the Spöttinger chapel.
Death and burial ground of Brack, Victor Hermann.
  Brack who was also responsibly  for the death of the cyclist champion
Albrecht Richter
, 
was sentenced to death in 1947 and executed/hanged  on 02-06-1948, age 43, in the prison in Landsberg am Lech and also buried on the prison Spöttinger Cemetery of Landsberg.
Next to him the graves of SS Standartenführer,
Rudolf Brandt
, Gauleiter Meckelen and SS Obergruppenführer, Adjudant from Reichsführer Heinrich Himmler,
Karl Hildebrandt
, SS Hauptscharfführer, head of the Crematoria of Auschwitz
,
Otto Moll
, Waffen SS Brigade Führer, Kommandant of Einsatzgruppe B
, Erich Naumann
, SS Obergruppenführer and Chief des SS Wirtschaftsamt,
Oswald Pohl
, SS Standartenführer, Sonderkommando 4 A of Einsatzgruppe C,
Paul Blobel
 and Reichsgeschäftsführer,
Wolfgang Sievers.