Bolling, Alexander Russel "Bud", born 22-03-1890, Ocean grove, Pennsylvania, was a student at the U.S. Naval Academy at Annapolis from 1915 to 1916, but he left the USNA and enlisted in the U.S. Army. He was sent to France during WWI, where he earned a battlefield commission. After WWI, he was sent to Fort Bliss, Texas where he chased Mexican Bandit, Pancho Villa died age 45, in Parrel, Mexico, 
 along with fellow Lieutenants
Dwight "Ike " Eisenhower
,
Georg Smith Patton
, and
Douglas MacArthur
. He was promoted to the rank of Captain, which he held for 12 years. While in command of a company of the 4
th
Infantry, 3
rd
Division, in the Boise-des-Nesles, on the night of 14-07-1918, Second Lieutenant Bolling earned the Distinguished Service Cross by "continually exposing himself to heavy gas and shell fire by going from one platoon to another." Bolling commanded the 84
th
Infantry Division, nicknamed "Railsplitters"
  in the European Theater of Operations during World War II. Casualty figures for the 84
th
Infantry Division,  in 170 days of combat on European theater of operations total battle casualties: 7.260 total deaths in battle: 1.468.
After the war, Bolling was promoted to Lieutenant General in 1952 and assumed command of the Third U.S. Army
 Between becoming operational in Normandy on August 01-08-1944 and the end of hostilities on 09-05-1945, the Third Army was in continuous combat for 281 days. In that time, it crossed 24 major rivers and captured 81.500 square miles (211.000 km
2
) of territory, including more than 12.000 cities and towns. The Third Army claimed to have killed, wounded, or captured 1.811.388 German soldiers, six times its strength in personnel. Fuller's review of Third Army records differs only in the number of enemy killed and wounded, stating that between 01-08-1944 and 09-05-1945, 47.500 of the enemy were killed, 115.700 wounded, and 1.280.688 captured, for a total of 1.443.888.Bolling's awards included the Distinguished Service Cross, Distinguished Service Medal with Cluster, Silver Star, Legion of Merit, Bronze Star, and Purple Heart.
Death and burial ground of Bolling, Alexander Russel "Bud".
Upon his retirement in 1955, he made his home in Satellite Beach, Florida. Lieutenant General Bolling died on 03-06-1964, age 68, and is buried with his wife Josepine, born Hoyer, who died very old age 93 on 23-08-1987, on Arlington National Cemetery, Section 3, Grave 1393 B. Bolling was the father of Major General Alexander R. "Bud" Bolling, Jr., the father-in-law of Major General Roderick "Rick" Wetherill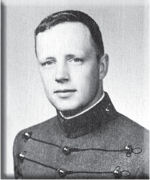 , who died age 54, on 09-09-1996, and grandfather of Lieutenant Colonel Roderick Wetherill, Jr. Close by in Section 3 the graves of the 
Major General, Commander, G1 (Personnel) Section, Headquarters SHAEF,

Charles Bonesteel
,
101
st
Airborne
 General,
Anthony MacAuliffe
the Bastogne defender,
Major General. Commander, 7th Armoured Division, nickname "Lucky Seventh" 
,
Truman Boudinot
, Commanded the 25
st
Infantry Division
 during the Attack on Pearl Harbor
Maxwell Murray
, 
Major General, adviser MacArthur. Corps Engineers,
Hugh Casey
,
Major General, "Father of the Armoured Forces", 
Adna Chaffee
, 
Lieutenant General, Chief of Staff, 
Hugh Drum
, 
Lieutenant General, 3rd Service Command and Deputy,
Manton Eddy
, General Lieutenant,
Frank Cadle Mahin
, commander of the 45
th
Division
, 
Rear Admiral, U Boot 505,
Daniel Gallery
,
Lieutenant General, Quartermaster U.S. Army, Thomas Larkin
 and 
Marine Corps General, Iwo Jima-Guadalcanal-Okinawa,
Randolph Pate
.