Ackermans, Florentius Johannes Maria "Jan", born 25-10-1907, Veghel.
Jan's sister, was the girlfriend and niece of my mother, Adriana Schoffelen. They lived in Veghel, a small village with many wooden shoes factories, along the Wilhelmina Channel in the south of Holland. Jeanne's brother, nephew Jan, born 15-10-1907, then 18 years old, was in love with my mother Adriana "Adri" Schoffelen, she 19 and a pretty handsome lady ?, but he was not her favourite.
 Later, after the war, my mother moved to Eindhoven and met my father, Cornelis Hopmans, with me as a result in 1946 (see About).
. The Dutch Army in the 1930s was shameful neglected for many decades, the Netherlands government hoped to remain a neutral land again in a new war and at the this moment they had only 26 armoured cars, 2 old French Renault tanks, 150 old

Fokker
planes and the artillery had guns from 1880.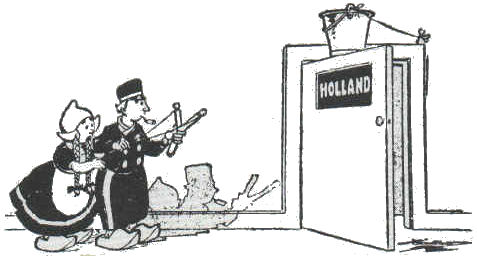 The Dutch neutrality made it for the German spies very easy, as nobody prevented them to "visit" our defence lines and they "inspected" the line until the last day. In 1940 all "old" former soldiers were mobilized because of the German threat, and Jan, then 33 years old, was one of them. My father, 37 years old, a public servant, had exemption. Jan, without the necessary training, was ordered to the Grebbeline, a small hilly side, organized by General Jan Joseph van Voorst tot Voorst and General, the Dutch military high command in Mai 1940, Izaak Reijnders  and the most important Dutch defence line, near Arnhem and the German border. On 10 Mai 1940, my mother died 10 Mai 1999, age 93, the Germans, under command of Generalleutnant der Infanterie, Commander of the 227

th

Infantry Division, Friedrich Zickwolff
 attacked Holland "unexpected", the battle on the Grebbeline was short but heavy and bloody. The opponent of Jan's 207th Infantry Division was the SS-Standarten Regiment "Das Reich"
 , under SS Obergruppenführer

Paul "Papa" Hausser

,
most former Nazi SA streetfighters, and already then these SS soldiers had no mercy with anyone in battle. Many German SS soldiers were drunk during this attack, " is the story" ? On the third day, 13 Mai 1940, Jan was killed in his trench, Holland surrendered on Mai 14th 1940 and lost 417 soldiers on the Grebbeberg line, the Germans 800 and about 1500 Dutch soldiers total in this short battle.
 Jan is buried, with 420 other Grebbeline victims, on the Memorial Cemetery of the Grebbeline, nearby the place of his final destiny. Five years later in September 1944, Operation Market Garden, Veghel, my mother's birth village and the Queen Wilhelmina Channel Region, were for some days the battlegrounds of colonel Harry Kinnard's 501th company, nickname "Geronimo"
 of the 101

st

Airborne Division, which division liberated Veghel. Close by in Heeswijk Dinther the famous Father,

Francis Leon Sampson

  dropped in the moat of the castle
and was rescued by a local farmer. The aunt of my wife Nune Clothilda Peters was killed in the nunnery basement of Veghel with some American 101

st

Airborne soldiers, during a German attack one week after the liberation, by a grenade (see 

aunt Peters

).
Colonel of the Airborne Harry Kinnard reached the rank of General after the war, Harry Kinnard is also famous from Bastogne Anthony McAuliffe,
the "Nuts" answer of General MacAuliffe to the surrounding Germans under General der Panzertruppe, Kommandeur XXXXVII Panzer Division, Heinrich von Lüttwitz,
came from him. He visited as guest of honour the Netherlands and his former battlfields often and we met him several times, a very kind modest man. 
Kinnard died at the old age of 93 and is buried on Arlington Cemetery, Section 12 and we visited his grave. My hometown Eindhoven was liberated by the 506

st

"Easy Company" commander Colonel, Robert Sink 
and Major and Commander of the 506, Easy Company, 101

st

Airborne Division, Richard "Dick" Winters and their men

Darell "Shifty" Powers

, Crilley, Joseph "Joe" James, Muck, Warren H "Skip" , Merlano, Louis Philip "Lou",
The commander of the 101

st

AB Division, nickname "Screaming Eagles"
 was General of the Para's, Maxwell Taylor.
The 101

st

Airborne Division had the next losses during their campaign in Europe; In Normandy, killed/died of wounds 868, wounded in action 2.303, missing/captured 665. In Holland killed 752, wounded 2.151 and missing 398. In the battle of the Bulge in Belgium, killed 482, wounded 2.449 and missing 527, in total killed 2.043, wounded 2.782 and missed 1590. Another friend and Eindhoven liberator, the first Allied soldier to put steps on Dutch soil, in a scout car on 11-09-1944, near Valkenswaard, is

Jack Brook

, who gave my his original war baret badge,
member of the Life Guards, nicknamed "Piccadilly Cowboys" and the III Army of Horrocks. During Operation Market Garden Urquhart's
1st British Airborne Division
of 10.005 men had the next casualties, killed 1.200, misses wounded or prisoner 6.642. On German side with the 9th
and 10th Panzer Divisions
 , there were 1.100 killed and 2.200 wounded in battle.
Message(s), tips or interesting graves for the webmaster:    robhopmans@outlook.com