We know a great deal about what transpired at Oradour sur Glane because despite the thorugnness of the SS killing operation, there were a few survivors. There was only one school child among the survivors. The lone child who managed to survive was Roger Godfrin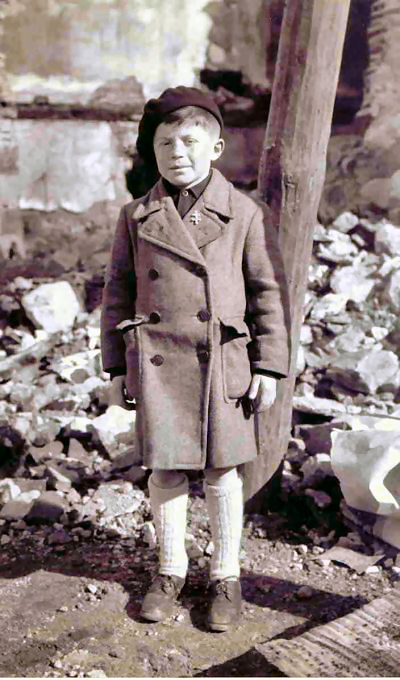 .He was a refugee from Lorraine. Roger was born August 4, 1936 in Loraine. He
 was 7 years old, almost 8 at the time of the massacre. He had red hair. On seeing that the Nazis had come and were taking everyone to the village square, he knew from experience and his mother's instructions that this was serious–although he had not idea just how serious. He had experience from Lorraine. He managed to slip out of a back door of the school. He was frightened and hid. The SS under command of SS Sturmbannführer Adolf Diekmann men swept through the village, driving everyone to the town square. When the SS reached the makeshift school for refugee children from Lorraine
, Roger managed to flee out the back door of the school. He hid for a while in a garden and field of tall grass. Then he made a break for Glane River. The Germans saw him at a distance and shot at him, bur Roger made it to the river and safety. He was the only schoolchild in Oradour to survive. One other little boy also survived, André Pinède
, who he was not at school. He and André became the only children to escape the terror of that day. Being a refuge was probably his salvation. The other children surely sought safety in the arms of their parents–which in this case meant death. Roger after the War became an Air Force cadet. He later described his survival as, "Just fate, I did like the others did. Cleverer ones died in it. Its just destiny, nothing heroic at all."
The Godfrin family was from the village of Charly near Mosele. The Nazis gave their home to "good and faithful citizens." A survivor reports, " On their arrival, Roger's parents moved into a little house next to ours. They were pleasant neighbors, always ready to help. How many times did I hear Mrs. Godfrin say to Roger: 'When you see the Germans, run away.' This family, already tried by war, had foreseen that the Germans might come to Oradour. though they hadn't seen a single one since they arrived. If it should happen, they were all to meet in the wood, behind the cemetery. Alas, Roger could not get there."
We know a great deal about what transpired at Oradour sur Glane because despite the thoroughness of the SS killing operation, there were a few survivors.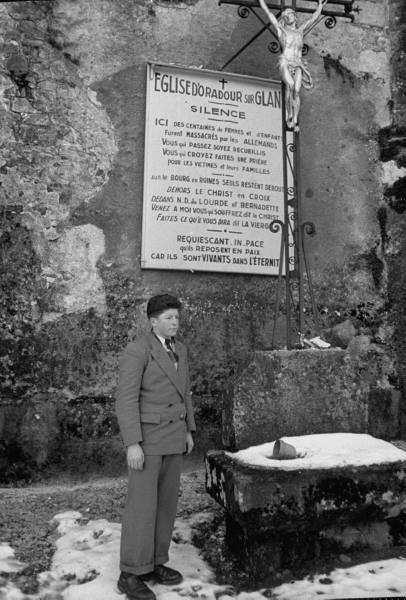 Roger after the War married Marie Agnes Laurent
 who was lost by her parents for five weeks as a child of two when family was fleeing the German invasion of 1940. Roger became an Air Force cadet. He later described his survival as, "Just fate, I did like the others did. Cleverer ones died in it. Its just destiny, nothing heroic at all." Here we would disagree with Roger. It was not fate. He survived because of his mother who understood the Germns and made sure her son also understood.