Gerda Bormann-Buch was born 23-10-1909 in Konstanz am Bodensee. She
 was the daughter of Supreme Nazi Party Judge and SS Obergruppenführer Walter Buch
.  After the end of the Second World War in Europe, Buch was seized and sentenced to five years in a labour camp. In July 1949, in the course of another wave of Denazification, he was classified as a major regime functionary or "Hauptschuldiger". On 12 November, he ended his own life by slitting his wrists and throwing himself into the Ammersee. Gerda was a fanatic, very anti-Semitic and devoted Nazi and was a fan of Julius Streicher,
the 'Jew- Baiter number one' and the editor and publisher of 'Der Stürmer.' On 01-January 1934, Buch was to be appointed supreme party judge of the NSDAP. Bormann and Hitler met each other for the first time in the home of Buch. Gerda there met the famous Martin Bormann, head of Party Chancellery in Nazi- Germany
 and a close friend of Hitler. Tall, Arian Gerda was almost a foot taller than the squad Bormann and despite the disapproval and opposition of Major Buch, the couple was married anyway on 02-September 1929.
She bore him 10 children, Adolf Martin Bormann (* 14. April 1930, † 11. März 2013; nickname "Krönzi", called after his godfather Adolf Hitler, Ilse Bormann (* 9. Juli 1931–1958; the twins Ehrengard died shortly after birth.As Ilse was called after her godmother Ilse Heß,
her name was changed after Rudolf Hess's flight to England in 1941 to "Eike", Irmgard Bormann (* 25. Juli 1933), Rudolf Gerhard Bormann (* 31. August 1934; called after Rudolf Heß, 1941 new name "Helmut") Heinrich Hugo Bormann (* 13. Juni 1936; nickname "Heiner", after his godfather Heinrich Himmler, Eva Ute Bormann (* 4. August 1938), Gerda Bormann (* 23. Oktober 1940), Fred Hartmut Bormann (* 4. März 1942) and  Volker Bormann (* 18. September 1943–1946)
Her husband had a lover, the actrice Manja Behrens,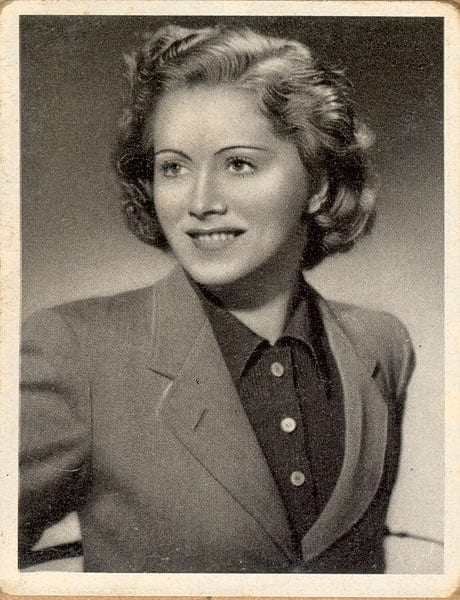 with her he spent more time than with his own family. Manja Behrens would die old age 88 on 18-01-2003, in Berlin. Of her husbands mistress, Gerda wrote to Martin 'See to it that one year she has a child and next year I have a child, so that you will always have a wife who is serviceable'.
After the war Martin Bormann was missing and Gerda moved with eight of her children in the village of Wolkenstein, twenty kilometres north east of Bolzano. She was dicoverd and interrogated for days. In the autumn of 1945 Gerda Bormann was brought to the hospital in the Italian city Merano. There the doctors discovered that she had cancer. The woman of the once so powerfull Martin Bormann died on 23-april 1946 in Merano at the age of 37. She was buried at the military cemetery in Merano with a German soldier, Horst Brügger, in the same grave, nr 610. Later her remains were removed, cremated and scattered in the sea. The eight children were adopted by the catholic clergyman Theodor Schmitz. All of Bormann's children survived the war. Martin abandoned the Lutheran faith of his family and was ordained a Roman Catholic priest in 1953, but left the priesthood in the late 1960s. He married an ex-nun in 1971 and became a teacher of theology, living in Berchtesgaden till now.