Margarete "Marga" Boden was born, 09-09-1893  in Goncerzewo near Bromberg. the daughter of landowner Hans Boden and his wife Elfriede, whose maiden name was Popp. Margarete had four brothers and a sister. In 1909, she attended the Höhere Töchterschule (Higher Girls School) in Bromberg, a city in northern Poland. Margarete trained and worked as a nurse during the First World War followed by a stint at a German Red Cross hospital at the war's end. Her first marriage was short and she remained childless. Due to the economic support of her father, she was able to operate and direct a private nursing clinic in Berlin.
In 1926 she
met Heinrich Himmler in a hotel lobby at a Bavarian resort, Bad Reichenhall. He immediately saw her as his ideal woman. His brother, Gebhard Himmler, 
claimed he was particularly attracted to her blonde hair and her blue eyes. "Undoubtedly she impressed him as truly Aryan, although there was a width to her face and frame more suited to Wagnerian opera than to the ideal of Nordic womanhood."
It has been claimed that Himmler had great difficulty in finding girlfriends: "The simple truth was that despite the moral bluster of the diaries, he lacked confidence.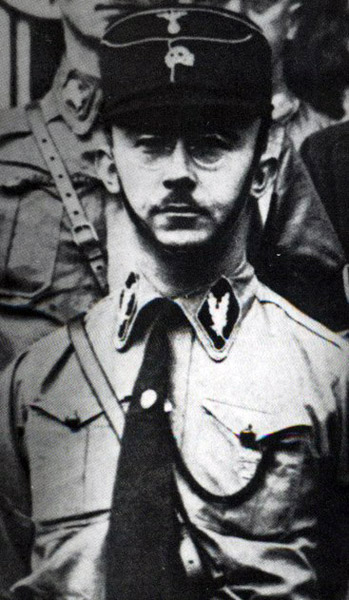 His timidity was probably largely based on his awareness of his looks. However, any potential sense of inadequacy was translated into contempt for those who did not share his limitations… Rather than consider his want of sexual success as undermining his masculinity, he grandly assumed the role of heroic defender of both men's and women's purity."
At the age of twenty-one he had written in his diary: "I have experienced what it is like… to get all fired up… The girls are so far gone they no longer know what they are doing. It is the hot unconscious longing for the whole individual, for the satisfaction of a really powerful natural urge. For this reason it is also dangerous for the man, and involves so much responsibility. Depraved as they are of their will power, one could do anything with these girls and, at the same time one has to struggle with oneself."
Otto Strasser
claims that Marga, aged thirty-four, and therefore eight years older than Himmler, seduced him. Himmler told Strasser that she was the first woman with whom he had sexual relations. Himmler was a close friend of Adolf Hitler, the leader of the NSDAP and at this time was Gauleiter (district leader) in Lower Bavaria.
They married in July 1928 and decided to buy a poultry farm. "Margarete ran a clinic she had opened with her father's money in Berlin. Apparently she distrusted conventional medicine; she was more interested in homeopathy, hypnosis, the old herbal remedies of the country. Despite having set herself up in Berlin, a sink of decadence according to his ideas, she apparently shared all his views of the good life of the land, so much so that she was prepared to sell her clinic and buy a smallholding to work with him."
A daughter, Gudrun Himmler, was born on 08-08-1929.
 She was named after a character in a novel written by Himmler's favourite writer, Werner Jansen. Seven months earlier Himmler had become the new leader of Hitler's personal bodyguard, the Schutzstaffel SS. At that time it consisted of 300 men. Himmler personally vetted all applicants to make sure that all were good "Aryan" types. Himmler later remembered that: "In those days we assembled the most magnificent Aryan manhood in the SS Verfugungstruppe. We even turned down a man if he had one tooth filled."
In 1932 Himmler sold the house and poultry farm in Waldtrudering and moved into a flat close to Hitler's apartment. He also purchased a large villa at Gmund on the Tegernsee, a lake south-east of Munich enclosed by mountains. Marga Himmler, very proud with Heinrich's promotions  
established herself there with Gudrun, whom they called "Puppi". The following year they adopted a boy named Gerhard von Ahe. He was the son of Kurt von der Ahe, a Scharfführer in the SS, who had been killed in Berlin in 1933.
Young Gerhard
 had to leave school because of "unsatisfactory results". He joined the SS in Brno at 16 in early 1945 and shortly thereafter went "into battle". Presumably he was captured by the Russians, but was released at some point. Gerhard never took the last name of his adoptive parents- Heinrich pretty much ignored him. He peacefully died in a Nursery Home in Lübeck- Kücknitz, Solmitzstrasse in 2011.
Himmler was jealous that the two men under him in the SS, Reinhard Heydrich and Karl Wolff, both had attractive wives. Himmler spent very little time with his wife. Lina Heydrich suggested that Himmler was embarrassed by her appearance: "Size 50 knickers, that's all there was to her." Bella Fromm, a journalist commented in July 1937 she saw Himmler with his "dirty-blonde, insipid, fat wife" and "the pleasures of the table are apparently about the pleasures she gets, since Himmler keeps her at home."
In 1939 Heinrich Himmler began an affair with his young secretary, Hedwig Potthast 
 The couple set up home in Mecklenburg. Hedwig gave birth to a son, Helge (born 1942)
 and a daughter, Nanette Dorothea (born 1944). Although separated from his wife, Himmler remained close to his daughter, Gudrun Himmler, who he phoned every few days and wrote to her at least once a week. Himmler adored his young, blue-eyed, blonde-haired daughter and would often take her to official state functions.
In 1941 he even took his daughter to visit the Dachau Concentration Camp.
 Gudrun wrote in her diary: "Today, we went to the SS concentration camp at Dachau. We saw everything we could. We saw the gardening work. We saw the pear trees. We saw all the pictures painted by the prisoners. Marvellous. and afterwards we had a lot to eat. It was very nice." "At fourteen… she cut out every picture of him from the newspapers and glued them into a large scrapbook"
In April 1945 Marga Himmler and her daughter were taken into custody.
 She later complained that they were held in various camps and were "treated as though they had to atone for the alleged sins of her father". They were forced to testify at the Nuremberg Trials and eventually released in November 1946. Gudrun Himmler remained active in far-right politics and helped form Wiking-Jugend, an organization patterned on the Hitler Youth program of the 1930s. In 1955 Magarete  moved in with her sister Lydia in Heepen and later with Gudrun in Munich where she died on 25-08-1967, age 73. Gudrun 
 married Wulf Dieter Burwitz,    
an official of the extremist NPD. She consistently fought to defend her father's reputation and became closely involved in Neo-Nazi groups that give support to ex-members of the SS  Gudrun Burwitz died on 24 May 2018 at her home near Munich at the age of 88.