On the Obersalzberg in Bavaria, Germany, are two teahouses. Both are specially made for Adolf Hitler, for relaxation and to impress visitors of the engineering power in the Nazi empire and the beauty of the Bavarian Mountains.
The more remarkable of the two is the teahouse on top of the Obersalzberg, the Kehlsteinhouse. The building is named after the peak of the mountain, Kehlstein.
On a height of 1835 meters, the tea house, better known as the Eagle's Nest soars above the Obersalzberg.

Martin Bormann gave the order to build a teahouse on top of the mountain as present for Hitler's fiftieth birthday.
His other teahouse, the one on the Mooslahnerkopf was his favourite teahouse.

Every day after lunch Hitler walked to the Mooslahnerkopf, about a half hour walk from his house the Berghof.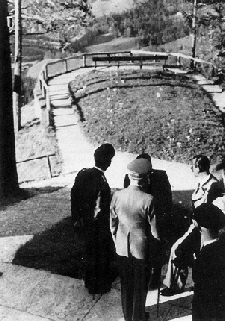 With his entourage he daily walked over the same small paths to the teahouse, this annoyed Bormann a great deal, for he had ordered the construction of asphalt roads toward the teahouse.
The teahouse was Hitler's own design and was finished in 1937.
It was a small house against the mountain side, a rectangle building with an 8 meter diameter circular room on the side. From the windows of the teahouse you had a stunning view of the valley below.
In the extension of the teahouse Adolf Hitler placed an artificial plateau of 8 meters wide and 20 meters long. Wooden fences sealed of the plateau and the wooden bench on top of it was the favourite place of Adolf
.  
He could sit here for hours and look at the valley or the other mountains, the Unterbergmassiv and the Kneifelspitze. Sometimes he brought binoculars to view the farmers in the fields.
On nice warm day the whole entourage sat it the grass of this plateau, Eva Braun 
took lots of pictures and filmed these relaxed outdoor moments.
This was Adolf's place of peace, he enjoyed the view, loved the sweet pastry in the teahouse and took naps in his thick furnished chair. He paced back and forth on the plateau while preparing speeches or made important decisions.