Kurt Franz was born in 1914 in Dusseldorf. He attended public school in Düsseldorf from 1920 to 1928, and then worked as a messenger. He started an apprenticeship as a cook beginning at the age of fifteen (1929) for the restaurant "Hirschquelle", and then at the Hotel Wittelsbacher Hof, before he gave his final exam.
Franz's father, a merchant, died early. Franz also had a sister. His mother was an observant Catholic. When she remarried, it was to a man with a strong right-wing nationalist outlook. Franz joined several right-wing national groups and served in the voluntary labor corps. He also trained with a master butcher for one year.
Untersturmführer Kurt Franz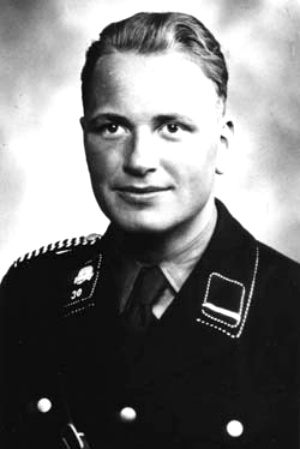 joined the Nazi Party in 1932, and enlisted in the German Army in 1935. He fulfilled his military obligation and after his discharge, in October 1937, he joined the SS-Totenkopfverbánde
. First he received training with the Third Death Head Regiment Thuringia at Weimar, and then served as cook and guard at the Buchenwald concentration camp, where he attained the rank of Unterscharfführer.
In late 1939 Franz was summoned to Hitler's Chanccelery and detailed to take part in the Action T4 euthanasia program of NSDAP Reichsleiter Phillip Bouhler, 
Head of the T4 programme. Franz worked as a cook at Hartheim
, Brandenburg, Grafeneck and Sonnenstein In late 1941, he was assigned as cook at T4 headquarters.
On 20 April 1942, Franz was promoted to Oberscharfführer. In spring of 1942, Franz, along with other veterans of Action T4, went to Lublin concentration camp complex in the General government and was posted to the Belzec extermination camp, where he stayed until the end of August 1942.
After the chain of command in the Operation Reinhard death camp system changed, Franz was reassigned to the Treblinka extermination camp, where he rose to the rank deputy commandant under Sturmbannführer Christian Wirth.
He served as the last camp commandant from August to November 1943 to oversee the conclusion of the Polish Holocaust. Christian Wirth was later killed by Yugoslav partisans in Hrpelle-Kozina near Triest on 26-05-1944 age 58..
Franz's decorated in 1944
 first tasks at Treblinka involved supervising work commandos, unloading transports, and transferring Jews from the undressing rooms to the gas chambers .The Germans had ordered that Treblinka II be dismantled in the fall of 1943. From July 1942 through November 1943, the Germans killed between 870,000 and 925,000 Jews at the killing center.In spite of having a very innocent-looking face (for which he was often called "Lalke" – the Yiddish word for 'doll' by the prisoners), his intentions were extremely sinister, to say the least.
Franz was known for being unusually cruel and sadistic. Franz made his rounds of the camp, often riding a horse, and he would take his St Bernard dog, Barry
, along with him. Barry was trained to follow Franz's command, and Franz's command was usually to bite the genitalia or buttocks of the prisoners. When Kurt Franz was not around, Barry was a different dog. With Franz not there to influence him, the dog allowed himself to be petted and even teased, without harming anyone. Franz also frequently enjoyed kicking and killing babies from the arriving transports.
A dominant overseer in day-to-day interactions with prisoners in Treblinka, he went on to become the most feared man at Treblinka who was known for his unflinching cruelty. When Franz was tried for the Treblinka camps in 1965, he denied all the crimes he had actually committed
, including setting his dog on a Jew and claimed to have only beaten a prisoner once. On September 3 the same year he was given a life imprisonment sentence, having been found guilty of murdering at least 300,000 people and being charged with 35 counts of murder, besides attempted murder.
However, Kurt Franz here with his brother
, was released in 1993 on the grounds of health issues. Kurt Franz 
died in Wuppertal on 04-07-1998, age 84..