Carin Axelina Hulda Fock, born 21-10-1888 in Stockholm was the first wife of Hermann Goering and the daughter of a Swedish baron and his Anglo-Irish wife. Carin Fock, was married with lieutenant Baron Nils Gustaf von Kantzow
, with one child Thomas born in 1912
. She first met the famous ex-World War I fighter pilot Hermann Goering when he flew baron Kantzow in bad weather to his home in Sweden. Goering then trying to make a living ferrying mail and passengers between Germany and Sweden in the years after the war. It was said to have been love at first sight and Carin was soon living with the former commander of Baron von Richthofen's "Flying Circus."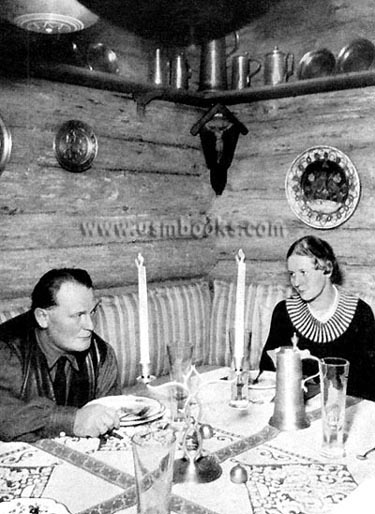 After her divorce, they were married on 03-03-1923. An ardent Nazi, Carin encouraged Goering's deepening involvement with the National Socialist German Workers Party (NSDAP) and she nursed him after he was badly wounded marching at Hitler's side during the so-called "Beer Hall Putsch" of November 1923. The turbulence of German politics in the years that followed, however, took their toll on Carin's health and she died in Stockholm on 17-10-1931, following a bout with tuberculosis and a heart attack. Her death left Goering bereft and she was interred in the Fock family plot at Lovo Churchyard, on Drottningholm Island in Lake Malaran, just west of Stockholm. Following the Nazi seizure of power in January 1933, Goering returned to Sweden for his niece's wedding and paid a visit to Carin's grave, decorating it with a wreath of red roses in the shape of a swastika. Goering's tribute was publicized in the Swedish press, however, and anti-Nazi Swedes removed it. Enraged, Goering decided to remove Carin's remains to Germany. That summer, he began work on the house that he would name "Carinhall" in the Schorfheide Forest some two hours north and west of Berlin. Between the lakes Großdöllner See and Wuckersee in the north of Brandenburg, he ordered the constructing of an elaborate underground mausoleum to house Carin's remains and, eventually, his own.
On 19-06-1934, Carin's coffin was exhumed from Lovo Churchyard, draped in a swastika flag, and transported to Carinhall, where it was interred the next day in an elaborate ceremony attended by Hitler himself. For nearly eleven years, Carin rested peacefully in the tomb, visited almost daily by her husband when he was in residence. (If Goering's second wife, the actress Emmy Sonnemann, whom he married on 10-04-1935, had any objection to living in a house named for her predecessor and having the late wife's remains so near by, she never said anything about it.) On 20-04-1945, however, with artillery booming in the distance, Goering decided that Carinhall was no longer safe from advancing Soviet troops. He departed that day for Berlin, leaving behind instructions that the house and all outbuildings were to be blown up by the guards before they too fled. This they did, though Goering – curiously – made no provision to save Carin's body, though he must have known that it was highly unlikely the Soviets would respect it. Red Army troops did indeed loot the tomb, scattering Carin's skeletal remains about the tiled mausoleum in their search for riches. The new Communist Order in East Germany pertinent forbidded the removal from her remains to Sweden. With the help of the Swedish Berlin Pastor Heribert Jansson
, the remains, under a faked name and faked reports, were cremated in the crematorium of Wilmersdorf, Berlin on 03-02-1951. He took the urn in his backpack and brought the remains to Sweden with the train. 
Carin Goering was re-buried in Sweden, cemetery Drottningholm Lovö, Stockholm, till now.