Omar Bradley, born on 12-02-1893 in Clark, Missouri, was one of the main U.S. commanders during World War II and a General in the United States Army. He was the last surviving five star commissioned officer of the United States. Bradley, the son of schoolteacher John Smith Bradley (1868–1908) and Mary Elizabeth Hubbard (1875–1931), was born into poverty in rural Randolph County, near Clark, Missouri. He attended country schools where his father taught. When Omar was 13 his father, with whom he credited passing on to him a love of books, baseball and shooting, died. His mother moved to Moberly and remarried. Bradley graduated from Moberly High School in 1910, an outstanding student and captain of both the baseball and football teams. Bradley was working as a boiler maker at the Wabash Railroad when he was encouraged by his Sunday school teacher at Central Christian Church in Moberly to take the entrance examination for the U.S Military Academy, at West Point, NY  
. At West Point Bradley played three years of varsity baseball including the 1914 team, from which every player remaining in the army became a General. He graduated from West Point in 1915 as part of a class that contained many future generals, and which military historians have called "the class the stars fell on ". There were ultimately 59 Generals in that graduating class, with Bradley and Dwight Eisenhower (
see Eisenhower
) attaining the rank of General of the Army. Bradley was commissioned into the infantry and was first assigned to the 14
th
Infantry Regiment 
. The 14
th
Infantry Regiment "'Golden Dragons" is a United States Army Light Infantry regiment, known as the Golden Dragons 
.  Omar Nelson Bradley didn't participate in World War I. Bradley did not receive a front-line command until early 1943, after Operation Torch. He had been given VIII Corps, later commander General Troy H. Middelton (
see Middleton
), but instead was sent to North Africa to be Eisenhower's front-line troubleshooter. At Bradley's suggestion, II Corps, which had just suffered the devastating loss at the Kassarine Pass, was overhauled from top to bottom, and Eisenhower installed George S Patton as corps commander. Patton requested Bradley as his deputy, but Bradley retained the right to represent Eisenhower as well.
 In February 1941, Bradley was promoted to Brigade General and sent to command Fort Benning, the first from his class to become a General Officer. In February 1942, he took command of the 82
nd
Infantry Division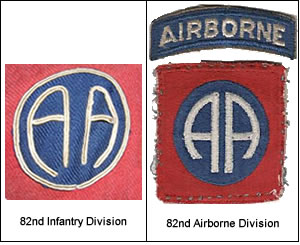 before being switched to the 26
th
Infantry Division
 in June. Bradley did not receive a front-line command until early 1943, after Operation Torch,
 this was the Britain American invasion of French North Africa. Bradley succeeded Patton (
see Patton
) as head of II Corps in April and directed it in the final Tunisian battles of April and May. Bradley moved to London as commander in chief of the American ground forces preparing to invade France in 1944.  At D-Day, Bradley was chosen to command the
US 1
st
Army
, which alongside the British Second Army  made up General Montgomery's (
see Montgomery
) 21
st
Army Group. By August, the 12
th
Army Group  had swollen to over 900,000 men and ultimately consisted of four field armies. It was the largest group of American soldiers to ever serve under one field commander. Bradley's command took the initial brunt of what would become the Battle of the Bulge. In his memories later he took the opportunity to attack Field Marshal Montgomery's 1945 claims to have won the Battle of the Bulge.General Bradley and his First Army commander, General Courtney Hodges (
see Hodges
) eventually decided to attack through a corridor known as the Aachen Gap towards the German township of Schmidt. George Marshall (
see Marshall
) and Hap Arnold (
see Arnold
) were eager to use the First Allied Airborne Army to cross the Rhine. Aggressive pursuit of the disintegrating German troops by Bradley's forces resulted in the capture of a bridge across the Rhine River at Remagen, the Ludendorff bridge (
see Ludendorff
) who's last defender was Major Hans Scheller of the LXVIII Army Corps (
see Hans Scheller
), later condemned and executed by a Flying Court .
The first soldier to cross the bridge was Alexander A Drabik (
see Drabik
), Bradley oversaw European operations until the German surrender. Unlike some of the more colorful Generals of World War II, Bradley was a polite and courteous man. First favorably brought to public attention by war correspondent Ernie Pyle, (
see Pyle
) he was informally known as "the soldier's General". Bradley attended the 30
th
anniversary of D-Day at Normandy, France on June 6, 1974, participating in various parades. On 10-01-1977, Bradley was presented with the Presidential Medal of freedom by President Gerald Ford (
see Ford
). Bradley spent his last years in Texas at a special residence on the grounds of the William Beaumont Army Medical Center, part of the complex which supports Ford Bliss. One of Bradley's last public appearances was at the festivities surrounding the inauguration of President Ronald Reagan (
see Reagan
) in January 1981.
Death and burial ground.
Bradley died on 08-04-1981, age 88, in New York City of a cardiac arrhytmia, just a few minutes after receiving an award from the National Institute of Social Sciences.
  He is buried at Arlington National Cemetery, next to his two wives,
  Esther Dora Buhler, who died 2004, age 82. and Mary, born Quayle, who died age 73 in 1965, on Arlington Cemetery. Close by the graves of the
Lieutenant General, Commander of the 26

th

Infantry Division,
Willard Paul (
see Paul
)
,
Major General, Chief Signal Officer,
George Back (
see Back
),
Major General, Commander 116th and 29th Division, D-Day,
Charles Canham (
see Canham
), Lieutenant General, Commanded the 5
th
Marine Division, Thomas Bourke (
see Bourke
),
Lieutenant General, Commander 2nd Armoured Division,
Ted Brooks (
see Brooks
) and Admiral, Robert Ghormey (
see Ghormley
),
Infantry Major General, Commander 24th Infantry Division,
Kenneth Cramer (
see Cramer
),
Major General, Commander 9th Infantry Division,
Louis Craig (
see Craig
),
Air Force Lieutenant General, Commander 12th and 15th U.S. Air Force,
Ira Eaker (
see Eaker
),
Navy Admiral, Okinawa Campain,
Louis Denfeld (
see Denfeld
),
Fleet Deputy Chief Operations,
Richardson Edwards (
see Edwards
),
Secretary of the Navy in 1944,
James Forrestal (
see Forrestal
) and
General, Deputy Chief of Staff, Bomb on Hiroshima,
Thomas Handy (
see Handy
).