Erwin
Rommel, Erwin

Generalfeldmarschall der Panzertruppe. Commander Duits Afrika Korps. German Africa Corps.

15-11-1891, Heidenheim, Württemberg.
Germany.
14-10-1944, enforced suicide, age 52, Herrlingen.

Herrlingen, Village cemetery.
Rommel, Erwin
Erwin Rommel, born 15-11-1891 in Heidenheim, Germany, wanted to study engineering but his father disapproved so in 1910 he joined the German Army. By the outbreak of the First World War Rommel had reached the rank of lieutenant. He fought on the Western Front and in January 1915 won the Iron Cross. In 1917 Rommel served on the Italian Front
and after leading the attack on Monte Matajur, was promoted to captain. Soon afterwards Rommel and a small group of men swam the Piave River in order to capture the Italian garrison at Lognaroni. After the war Rommel was allowed in the new Reichswehr and in 1929 he was appointed an instructor at the Infantry School in Dresden. In October 1935 he was promoted to the rank of lieutenant colonel and began teaching at the Potsdam War Academy. An excellent teacher, Rommel's lectures were published as a book on infantry tactics in 1937. The book was read by Adolf Hitler (
see Adolf Hitler
). Greatly impressed by Rommel's ideas Hitler arranged for him to command his HQ staff in Austria and Czechoslovakia. The following year he did the same job in Poland. Rommel was given command of the 7
th
Panzer Division that invaded France in May, 1940. Rommel's troops moved faster and farther than any other army in military history. After reaching the Channel he turned south and raced along the coast until he reached the Spanish border. As a result of his exploits in France he was promoted to the rank of General. When Benito Mussolini (
see Mussolini
) asked for help in North Africa Adolf Hitler (
see Did you know
) sent Rommel and Albert Kesselring (
see Kesselring
) to command the new Africa Corps and successfully drove the British 8
th
Army out of Libya.
Rommel got the nickname Desert Fox as a leader and also his uncompromising belief that all prisoners of war should be well looked after and not abused. One story told at the time was that Italian troops took from British POWs' their watches and other valuables. When Rommel found out, he ordered that they be returned to their owners immediately. To many British "Desert Rats", Rommel epitomised a gentleman's approach to a deadly issue – war. He moved into Egypt but was defeated at El Alamein.
With the USA Army landing in Morocco and Algeria, his troops were forced to leave Tunisia. The nickname 'Desert Fox' was well deserved. Rommel was highly respected even by the British. Auchinleck (
see Auchenleck
) and Montgomery (
see Montgomery
), Rommel's opposites until his sacking by Churchill (
see Churchill
), sent a memo to his senior commanders in North Africa, to state that it was their responsibility to ensure that their men thought less of Rommel as a 'super military leader' and more of him as a normal German commander. Hitler ordered Rommel to fight to the last man and the last bullet. Rommel had far too much respect for his men to obey this command and retreated. The Germans left North Africain May 1943. Despite this refusal to obey Hitler'scommand, Rommel did not lose favour with Hitler. Rommel was now sent to head the German Armyin France that was preparing for the Allied invasion. Unable to halt the Allied troops during Operation Overlord, on 15-07-1944, Rommel warned Hitler that Germany was on the verge of defeat and encouraged him to bring the war to an end. He took full responsibility for the Northern French coastline. The beaches at Normandy were littered with his anti-tank traps which were invisible at full-tide. As it was, the planning at D-Daymeant that Rommel's defences were of little problem to the vast Allied attack. At the time of D-Day, Rommel commanded the important Army Group B. On 17-07-1944, Rommel was wounded in an attack on his car by Allied fighter planes.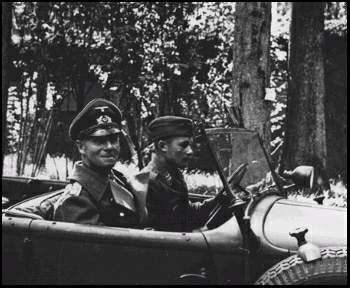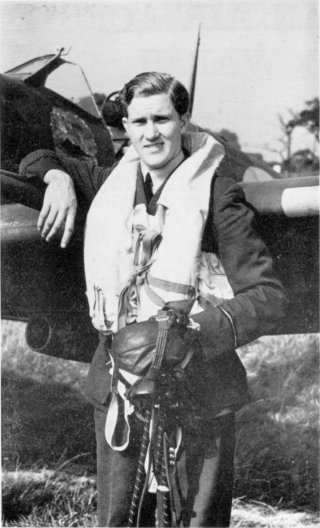 The attack took place near the village Sainte Foy de Montgommery. Eight Spitfires, of the No 602 Squadron, flew in the vicinity. Two Spitfires broke out of the formation when they spotted the staff car. Squadron Leader J.J. Le Roux, DFC, an ace with 23½ destroyed enemy airplanes,
took a shot at the staff car. His shells smacked with heavy force into the Horch. Rommel his driver was hit badly in the arm. Rommel was wounded in the face and his skull is fractured in three places. Driver Daniel lost the car and it runs into the verge of the road, hits a tree and the car turns over. Rommel lands unconscious besides the car. They fear for his life, but Rommel survives the attack. Daniel, his driver dies of his wounds that same night.
In the early months 1944 Rommel was approached by Ludwig Beck, Beck was offered to commit suicide. His last words were "I am thinking of earlier times." Beck then shot himself. In severe distress, Beck succeeded only in severely wounding himself and a sergeant was brought in to administer the coup de grâce by shooting Beck in the back of the neckshot in the Bendlerstrasse headquarter OKW, on 20-07-1944, age 64 and Carl Goerdeler, about joining the July Plot, Goerdeler was executed by hanging on 02-02-1945, age 60, at Plötzensee Prison in Berlin.
Ludwig Beck. Carl Goerdeler. Wilhelm Burgdorf.
Wilhelm Burgdorf.
Rommel refused, criticising the tactic of assassination claiming that it would turn Adolf Hitler into a martyr. Instead he suggested that he should be arrested and brought to trial. After the von Stauffenberg July 20
th
, bomb attack in the Wolfschanze, Rommel's name was called by his also suspected adjudant Hans Speidel (
see Speidel
). A committee was formed, "the Ehrenhof", with Gerd von Rundstedt (
see Rundstedt
), Heinz Guderian (
see Guderian
), Walter Schroth (
see Schroth
), Karl Wilhelm Specht (
see Specht
), but also Wilhelm General Keitel (
see Keitel
) and Heinrich Kirchheim,
two enemies of Rommel. Kirchheim was called a coward by Rommel( he screamed it to Kircheim) in Africa with the German Africa Corps battles in April 1941 and Kirchheim never forgot. The choice was between Rommel and Speidel and Rommel was doomed. Heinrich Kirchheim died in Lüdenscheid at the very old age of 91, on 14-12-1973. The Gestapo was keen to interview this famous military commander and sent his Generals Wilhelm Burgdorf, he committed suicide in the Führer Bunker, on 01-05-1945, age 50 and Ernst Maisel (
see Maisel
), died age 82, on 16-12-1978, in Schönau, to Herrlingen, where Rommel lived. Hitler was keen to avoid the public show trial of his most famous General and it seems that a 'deal' was done. Rommel, by the way a good violin player, died of his "wounds" on 14-10-1944, age 52, was the text in the German papers.
In reality, Rommel, after saying goodbye to his wife and son, drove with the two Generals out of the town of Herrlingen, stopped on a silent road, the two Generals left the car for a ten minutes and returning they concluded that Rommel had, on Hitler's "order", committed suicide with the suicide pill, cyanide, they gave him.
His former DAK soldiers raised a monument of tank parts on the same spot later. Rommel was given a state funeral and his family would not be punished for Rommel's indiscretions after his death. Rommel is buried on the cemetery of Herrling near Ulm. His son Manfred later became the mayor of Stuttgart in 1974.