Walter
Krueger, Walter
Walter Krueger, born on 26-01-1881 in Flatow, West Prussia, Germany. His family emigrated to the United States in 1888 and he, at the age of eight, grew up in Madison, Indiana. In 1898 he enlisted for volunteer service in the Spanish-American War and in 1899, having served in Cuba, he enlisted as a Private in the Regular Army. While serving in the Philippines with the Infantry, he was advanced to the rank of Sergeant and in 1901 was commissioned Second Lieutenant, 30th Infantry. After seeing action in the Philippines he was commissioned in 1901. He became an instructor at Fort Leavenworth where he met and became friends with George Marshall, (
see Marshall
). He returned to the U.S. in 1903, graduated from the Infantry-Cavalry School, Fort Leavenworth, Kansas, in 1906 and from the General Staff College there in 1907. After a second tour in the Philippines, he was assigned to various routine duties. In 1916, he took part in the Mexican Punitive Expedition under General John J. Pershing, Pershing died age 87, on 15-07-1948.
Krueger went to the Western Front in France during the First World War in February 1918 and served as Assistant Chief of Staff of the 26th Division, later with the 84th Division and as Assistant Chief of Staff with the Tank Corps, and then as Assistant Chief of Staff of VI and IV Corps in occupation duty following World War I, advancing to the rank of temporary Colonel. After the war Krueger taught at the Army War College and served with the War Plans Division in Washington. Promoted to the rank of Major General he was given command of the 2nd Division based in Texas. In October 1940 he became head of the 3rd Army Headquarters. In January 1943 Krueger and the 3rd Army were sent to Australia. It was not until October 1944 that Krueger first saw action when he took part in the Leyte campaign.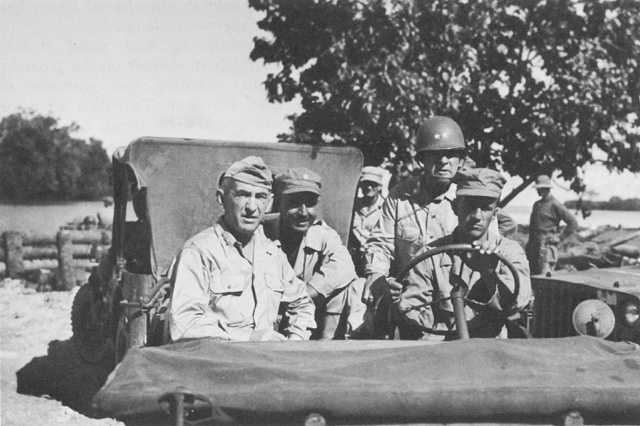 General Douglas MacArthur (see MacArthur) was critical of Krueger for advancing too slowly and considered having him replaced. Later he was involved in the capture of Luzon. Promoted to temporary General in March 1945, he reverted to Lieutenant General in January 1946, but retired as a full General in July 1946. Not only was he an expert on discipline and training, but was also noted as an historian and scholar of military affairs. After the war Krueger retired
to San Antonio.
Walter Krueger, died at the old age of 86, on 20-08-1967 in Valley Forge in Pennsylvania and is buried with his wife Grace, born Norvell, who died age 74, on 13-05-1956, on the Arlington National Cemetery, in Section 30. In Section 30 also the Generals Willard Paul (see Paul), George Back (see Back), Frank Akers (see Akers), Ted Brooks (see Brooks), Charles Canham (see Canham), Kenneth Cramer (see Cramer), Louis Craig (see Craig), Ira Eaker (see Eaker), Louis Denfeld (see Denfeld), Richardson Edwards (see Edwards) and James Forrestal (see Forrestal).