Wilhelm Ferdinand "Wutz"
Galland, Wilhelm Ferdinand "Wutz"

Major, Jagdfliegerass and brother of Adolf.

23-10-1914, Bochum.
Germany.
17-08-1943, crashed, age 29, over Holland.

Lommel, Belgium, Kriegsgräberstätte. Blok 21-Grab 290.
Galland, Wilhelm Ferdinand "Wutz"
Wutz Galland, born 23-10-1914 in Bochum, was one of four Galland brothers to serve in the Luftwaffe. The oldest brother Fritz Galland served in a fighter and reconnaissance unit and survived the war. His older brother, Lieutenant Genenral. Adolf Galland (
see Adolf Galland
) was one the most renowned German fighter pilots and leader of German fighter operations and also survived the war. His youngest brother Paul Galland, a flying ace with 17 victories, served with JG 26 and was killed in action on 31-10-1942. Galland scored his first victory on 23-07-1941, shooting down a Spitfire near Hesdin. By the end of 1941 his victory total was three. On 05-05-1942 Galland was promoted to Staffelkapitän of 5./JG 26, with eight victories at the time. His score was 21 by the end of 1942. Hauptmann Galland was appointed Gruppenkommandeur of II./JG 26
in January 1943. Galland was awarded the Ritterkreuz in May 1943 for 35 victories. Galland was killed in action on 17-08-1943 during the Schweinfurt-Regensburg mission. II./JG 26 took off on a bomber intercept mission and engaged the B-17 bomber formation but were bounced by the escorting P-47 fighters from the 56
th
Fighter Group, USAAF
. It is assumed that Galland was shot down by the American ace Walker "Bud" Mahurin of the 56
th
Fighter Group, USAA, Bud Mahurin died old age 91, on 11-05-2010.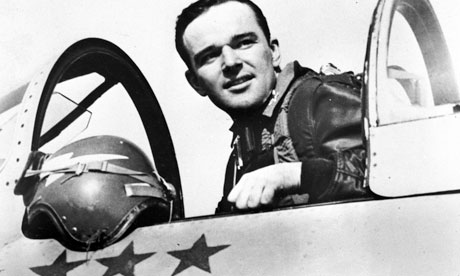 Wutz Galland is buried on the largest war cemetery in West Europe, 39.000 graves, of Lommel in Belgium. Also buried there, Friedrich Alpers, SS Obergruppenführer (
see Alpers
), Flyer ace Walter Adolph (
see Adolph
) and the Generals Dr. Wilhelm Dietrich (
see Dietrich
), Konrad Heinrichs (
see Heinrichs
) and Vice Admiral Robert Schall-Emden (
see Schall-Emden
).