Walther
Dahl, Walther

Oberst and Jagdfliegerass. Kommodore Jagd Gruppe 300.

27-03-1916, Lug near Bad Bergzabern.
Germany.
25-11-1985, age 69, Heidelberg.

Heidelberg, Bergfriedhof. Feld T-Grab 6.
Dahl, Walther
Walther Dahl, born on 27-03-1916 in Lug near Bad Bergzabern, was a German Oberst Luftwaffe fighter ace and recipient of the Knight's Cross of the Iron Cross with Oak Leaves during World War II. A flying ace or fighter ace is a military aviator credited with shooting down five or more enemy aircraft during aerial combat. Dahl joined the Army in 1935, initially serving in 119
th
Infantry Regiment in Stuttgart, before transferring to the Luftwaffe and becoming a fighter pilot. In May 1941, Dahl was transferred to the Geschwaderstab of Jagd Geschwader 3
. He gained his first victory on 22-06-1941 during the invasion of Russia. On 10 July, Dahl was transferred to II./JG 3. By the end of October, Dahl had 17 victories to his credit, including three Russian aircraft shot down on 13-09-1941 to record victories seven through nine and a further three on 23 October, all Russian fighters. Dahl was transferred to 4./JG 3
, on 13-12-1941 and accompanied the unit to the Mediterranean theatre. In April 1943, Dahl was transferred to the Staff of the General der Jagdflieger Adolf Galland (
see Galland
). In August, Dahl was next appointed Geschwader Adjutant, JG 3 on the Eastern front where he had raised his total to 51, being awarded the German Cross in Gold in December 1942. On the morning of 30-11-1944, Dahl was informed that Reichsmarschall Hermann Goering (
see Hermann Goering
) (
see Goering Peter
), (
see Goering-Sonneman
) and (
Fock
) was coming to visit the troops and to present Dahl with the Oak Leaves to the Knight's Cross.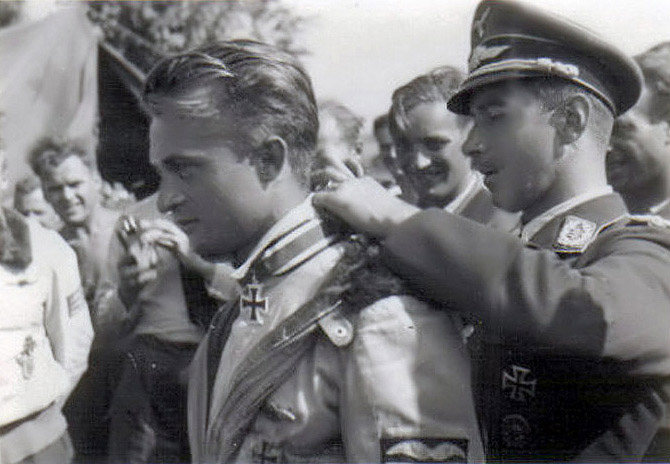 Soon the discussion came to the point if Dahl was of the opinion that given these bad weather conditions the Geschwader could not engage in combat. Dahl explained that only good conditions would they stand a chance against the overwhelming odds of being outnumbered 1:20. He also refers to the inexperience and inadequate training of his young pilots. Only the arriving General der Jagdflieger Adolf Galland, who confirmed Dahl's' opinion, saved Dahl from severe punishment. Nevertheless Dahl was immediately relieved from his command and sent on sick leave. Subsequently Dahl was not presented with the Oak Leaves that day. Despite his promotion, Dahl continued to fly operationally and survived the war and died on 25-11-1985 in Heidelberg at the age of 69.
He is buried on the Bergfriedhof of Heidelberg, only steps from the graves of Albert Speer, (
see Speer
) Hitler's favorite architect and minister of war productions, and that of conductor and composer Wilhelm Fürtwangler, (
see Fürtwangler
) another of Hitler's favorites.