Dietrich Hugo Hermann von
Choltitz, Dietrich Hugo Hermann von

General der Infanterie. Kommandeur der XXV Korps.

09-11-1894, Wiesegräflig, Schlesien.
Germany.
05-11-1966, long emphysema, age 71, Baden Baden.

Baden-Baden, Stadtfriedhof. Feld 8.
Choltitz, Dietrich Hugo Hermann von
Dietrich Choltitz, born 09-11-1894 in Wiesegräfling, Silesia, was a German Army office who was the last commander of Nazi-occupied Paris in World War II. In World War I, von Choltitz served at the Western frontier, eventually as a lieutenant. He remained in the Reichswehr during the Weimar Republic. In World war II, von Choltitz' battalion was engaged in the occupation of Rotterdam via air landings in 1940, with General Kurt Student (
see Student
), he was awarded with the Knight's Cross. In September 1940, he became commander of the whole regiment, from 1941 as a full colonel. In the war against the Soviet Union, von Choltitz's regiment was engaged in the conquest of the fortress Sevastopol in June 1942. In the same year he became a Major General, in 1943 a Lieutenant General. His command posts included, for example, the Infantry Division 260, assistant commander and later commander of several army and tank corps; since March 1944, he served in Italy, and from June 1944, at the Western front. On 01-08-1944 von Choltitz was promoted to the rank of General of the Infantry, and on August 7, he became the military governor of Paris. Commander of Paris was Otto von Stülpnagel
(
see Stülpnagel
) and (
Carl Stülpnagel
). He arrived at Paris on August 9. In the following 16 days, he disobeyed several direct orders from Adolf Hitler's to defend the city "to the last man" and to destroy the city.
Hitler's order from 23-08-1944 said: "The city must not fall into the enemy's hand except lying in complete debris". Most common is Hitler (
see Adolf Hitler
) (
did you know
) (
see William Hitler
) phoning him in a rage, screaming, "Is Paris burning ?" A tunnel beneath the city was filled with U-boat torpedoes that, if ignited, would produce a titanic explosion and tremendous devastation. On August 17, the busy General received at his headquarters Pierre Charles Tattinger, the mayor of Paris. The mayor was alarmed at all the explosives being deployed throughout the city and asked the German for an explanation. He was shocked by Choltitz's response: 'As an officer, Monsieur Tattinger, you will understand there are certain measures I shall have to take in Paris. It is my duty to slow up as much as possible the advance of the Allies.'
Von Choltitz prevented a complete uprising of the city's inhabitants and direct battles within the city by a mix of active contact with his enemies, negotiation with the Resistance, and demonstrations of power, ultimately preventing any major damage to the famous city. Free French armored division marched into the office of the commander of the Paris garrison. Their leader announced himself as 'Lieutenant Henri Karcher of the army of General de Gaulle.' Choltitz responded, "General von Choltitz, commander of Gross Paris."
'You are my prisoner,' Karcher informed him. 'Ja,' replied Choltitz.
Karcher died age 75, on 31-07-1983, in Sarrebourg. Choltitz and 17,000 men under his command surrendered to French General Philippe Leclerc de Haut ecloque (
see Leclerc
).
Captured on 25-08-1944, in prison in Trent Park and later in Camp Clinton, Mississippi, he was released from Allied captivity in 1947. Dietrich von Choltitz died in November 1966, age 71, due to a long standing war illness in the city hospital of Baden-Baden.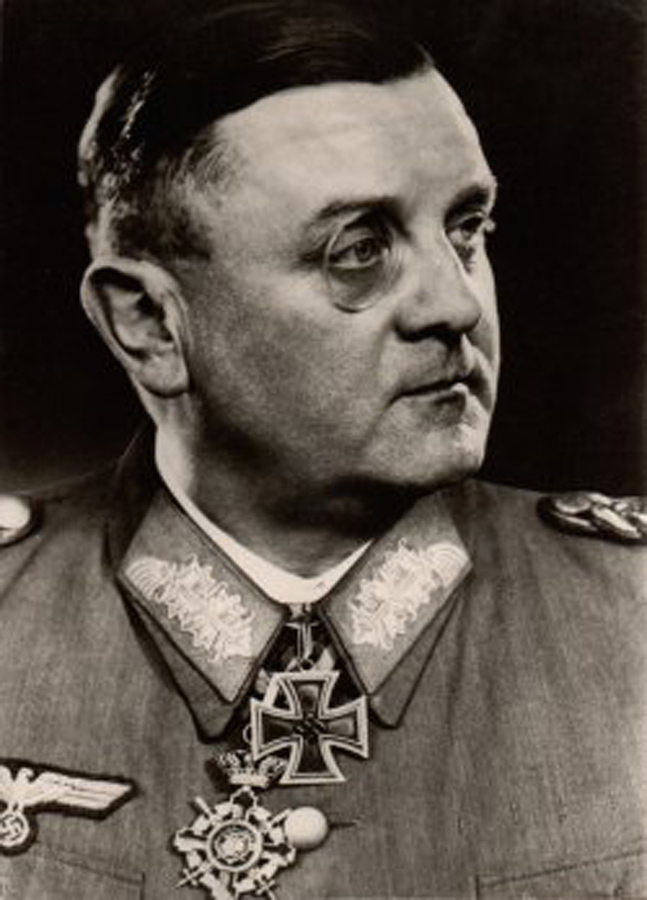 He is buried with his wife Huberta, born Garnier, who died old age 88 on 09-08-2001, on the cemetery of Baden-Baden only a few steps from Stalingrad Field Marshal Friedrich von Paulus (
see Paulus
), Generals Erich Fitzau (
see Fitzau
), Friedrich Fähnert (
see Fähnert
), Rudolf Holste (
see Holste
), Woldemar Rieberg (
see Rieberg
) and Wolfgang Preis (
see Preiss
) the WWII war movies actor. His funeral was attended by a number of high ranking French Army officers.