Hans Jürgen Bernard Theodor von
Arnim, Hans Jürgen Bernard Theodor von

Generaloberst der Panzertruppe. Kommandeur Duits Afrika Korps,

German Africa Corps, after Erwin Rommel.

04-04-1889, Ernsdorf.
Germany.
01-09-1962, age 73, Bad Wildungen.

Bad Wildungen, Village Cemetery.
Arnim, Hans Jürgen Bernard Theodor von
Hans Jurgen von Arnim, born on 04-04-1889 in Ernsdorf, served in the German Army from 1907 until the end of World War II. During the First World War he saw action on both the Eastern and Western fronts. After the war he remained in the new Reichswehr and rose to command the elite 68
th
Infantry Regiment in Berlin, Gauleiter was Joseph Goebbels (
see Goebbels
). With the rise of Nazi Germany, Arnim commanded the 5th Infantry Division in both the Battles for Poland and France. In October 1940, Arnim was given command of the 17
h
Panzer Division
. He lost this command as he was wounded in action and General Karl Ritter von Weber got the command on 24-06-1941.
Von Weber would die of injuries soon on 20-07-1941, age 48. His successor was General Wilhelm von Thoma (
see Thoma
). With the outbreak of the war against the Soviet Union, he was promoted to Lieutenant General, commander Heinz Guderian (
see Guderian
) (
son Kurt
) and (
son Heinz Günther
), but was seriously wounded a few days after the start of the campaign. He was promoted to General der Panzertruppe on 01-10-1941 and commanded the XXXIX Panzerkorps he was placed in command of the 5
th
Panzer Army, in 1942, under the command of the famous D.A.K, Deutsches Afrika Korps, Army Group Africa, General Field Marshal Erwin Rommel. (
see Rommel
). Arnim was promoted to Generaloberst on 04-12-1942 and made Commander in Chief of Army Group Africa. Adolf Hitler (
see Hitler Alois
)(
Paula
)(P
arents
) namely, refused to allow Rommel, who was ill and exhausted of the many frustrating battles, to return to Tunesia. Capture by the British Indian Army's 4
th
Infantry Division
, under Lieutenant General Sir John Ledlie Inglis Hawkesworth
two months later on 12-05-1943. Hawkesworth died on the way home to Britain, when he suffered a heart attack while on board his troopship which lay at Gibraltar, on 03-06-1945 at the age of 52
.
A surrender of the DAK, to the meanwhile superior British army and he was in British captivity, at Trent Park Camp in England. He wanted to talk to Eisenhower (
see Eisenhower
), but never got the opportunity. Transported, with 24 other German General officers, to Camp Clinton, Mississippi,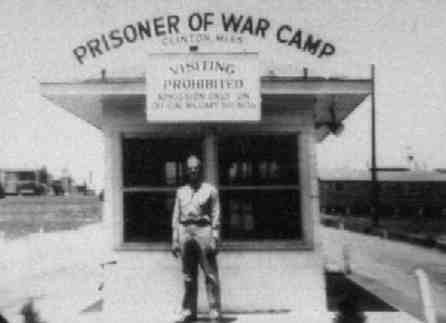 and was released on 01-07-1947. He returned to Germany and lived in Bad Wildungen, a small town.
He died, high decorated, in the age of 73, on 01-09-1962 and is buried with his wife Annemarie , born von Dechend, who died old age 89 on 16-12-1982, on the town cemetery in Bad Wildungen. Only a few steps from the grave of WWII General Gerhard Franz (
see Franz
).