Hans von
Ahlfen , Hans von

Generalmajor der Pioniere. Kommandeur von "Festung" Breslau.

20-02-1897, Berlin.
Germany.
11-09-1966, age 69, Oberndorf.

Oberndorf, Stadtfriedhof.
A
Ahlfen , Hans von
Hans von Ahlfen, born 20-02-1897 in Berlin, Joseph Goebbels (
see Goebbels
) (
did you know
) was the Gauleiter of Berlin, participated in World War I and ended the war as commander of the Panzerzüge of the Ostsee-Division, Panzerzüge are armed trains. He came in the new Reichswehr and in 1937 von Ahlfen became teacher on the Kriegsakdemie. At the beginning of World War II, von Ahlfen was in the Staff of the Pioneers and Fortresses, but was ordered to active service on 01-07-1940. He got the command of the 40
th
Motorized Pioneer Battalion.
On 30-01-1945 he got the rank of Major General and was appointed as Commander of Fortress Breslau, which brought him much reputation. He lost this position because of the influence of Gauleiter of Breslau Karl Hanke, Hanke a very disputed man, strongly advised Albert Speer (
see Speer
) never to visit "a camp in "Upper Silesia" he meant Auschwitz for any reason. Josef Mengele (
see Mengele
) infamous for performing human experiments on camp inmates in Auschwitz, including children, for which Mengele was called the "Angel of Death".
Hanke had
"
seen something that he was not allowed to describe and indeed could not describe." Magda Goebbels (
see Magda Goebbels
) was rumored to have had affairs with Goebbels's deputy Karl Hanke.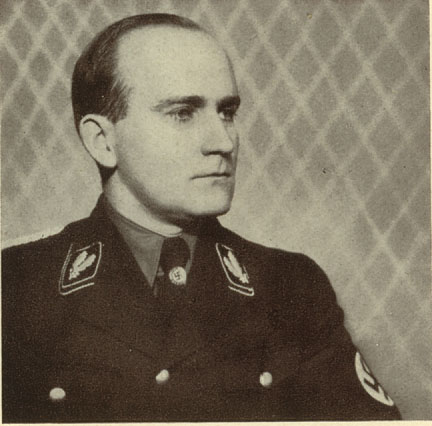 Herman Niehoff. Karl Hanke.
Von Ahlfen was replaced by General Niehoff, he died old age 83, on 05-11-1980, in Ringsee, but the Breslau, defended by fifteen year old, Hitler Youth (
see Adolf Hitler
) (
did you know
) (
see Alois
) (
see William Hitler
) and sixty year old, Volkssturm "soldiers", was already surrounded by the Russians and lost. Gauleiter Hanke forbid the local people to leave the city, but he himself escaped with his private plane, Hanke had flown out the previous day in a small Fieseler Storch plane kept in reserve for him. In his memoirs, German Minister of Armaments, Albert Speer (
see Speer
), claimed that he heard from Anton Flettner
the designer, who died age 76, on 29-12-1961, in New York, that Hanke actually escaped in one of the few existing prototype helicopters tested by Hanna Reitsch (
see Reitsch
). Hanke was liquidated on 08-06-1945, age 41, either by the Chechs, or beaten to death or shot by the Americans?. General Hermann Niehoff died old age 83, on 05-11-1980 in Ringsee. A few weeks later von Ahlfen got the command as General der Pioniere in the Army Group B, the commander at that time, was Walter Model (
see Model
). On 17-04-1945 he came in captivity of the Allies, until he was released on 30-06-1947. After the war he wrote some books, one was about the battle around the Fortress of Breslau.
Von Alfen was high decorated and lived in the little town of Oberndorf, along the river Neckar. Hans von Ahlfen died at the age of 69, on 11-09-1966 and is buried, with his wife Paula von Ahlfen, born Krauth, who died old age 88, on 11-02-1998, on the small village cemetery of Oberndorf.